Rating every PSG player's World Cup performance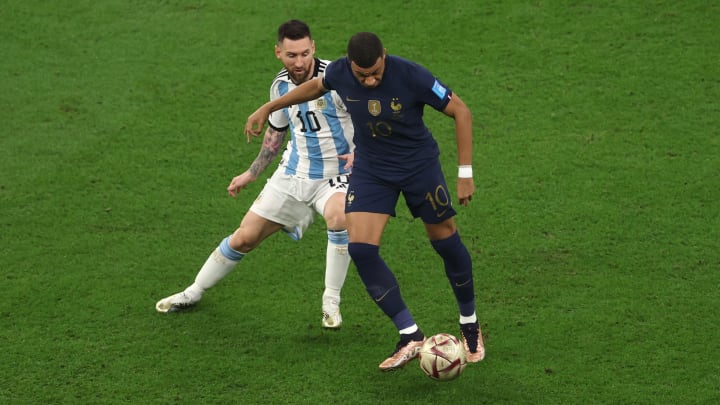 Argentina v France: Final - FIFA World Cup Qatar 2022 / Alex Pantling/GettyImages
The World Cup come to a close with the best final ever taking place in Lusail, Qatar, last Sunday. It was a day to remember for Argentina and Lionel Messi and one to forget for France and Kylian Mbappe. But there was much more happing abroad worth talking about!
While both PSG stars took the largest of stages all by themselves (Messi was crowned World Champion and best player of the tournament after scoring two goals, Mbappe finished the day as the top goalscorer hitting a hat-trick) there were many more PSG players involved in the tournament.
Paris Saint-Germain sent as many as 12 players to Qatar as part of seven different national squads. Here is the full list of players called up from PSG ahead of the tourney.
- Lionel Messi (ARG)
- Kylian Mbappe (FRA)
- Presnel Kimpembe (FRA, withdrew)
- Keylor Navas (CRI)
- Carlos Soler (SPA)
- Pablo Sarabia (SPA)
- Achraf Hakimi (MOR)
- Marquinhos (BRA)
- Neymar (BRA)
- Danilo Pereira (POR)
- Vitinha (POR)
- Nuno Mendes (POR)
Here at PSG Post, we are grading players on three tiers ranging from Excellent (9+), to Pass (5+), to Fail (0+). Let's go through the tiers!
Excellent Grade: Lionel Messi, Kylian Mbappe, Achraf Hakimi, Neymar
No need to discuss Mbappe's and Messi's cases that much, is it?
Messi and Mbappe faced each other in the World Cup final and turned an 80-minute stinker into the best game played in the history of the tournament in a hurry.
Messi was the one scoring first, Mbappe answered with a hat-trick himself, Messi added a second goal to his personal tally, and the penalty shootout settle all matters in favor of Argentina.
Throughout the tournament, Messi became Argentina's top goalscorer at the World Cup, got to lift the trophy once and for all, and helped his country win their third WC ever.
Mbappe finished the international tournament as the top goalscorer with 8 goals, one more than Messi's 7 scores. The French, who turned 24 years old on Tuesday, Dec. 20, is now just four goals behind Miroslav Klose (16) to become the all-time greatest goalscorer in the history of the World Cup. Insane.
Achraf Hakimi couldn't reach the final after meeting his long-time pal Mbappe in the semi-finals. That said, he helped Morocco reach the furthest stage an African nation has ever played at in a World Cup. The right wing-back of PSG is definitely going to return to Paris full of confidence and knowing what he's capable of after having a monster tournament in Qatar.
Neymar and Brazil were hugely disappointed after getting eliminated by Croatia as early as the quarter-finals. Neymar couldn't even kick the fifth penalty of the shootout. That said, the Brazilian no. 10 left Qatar with his head held up and as the all-time top goalscorer of Brazil having tied Pele's 77-goal tally through the World Cup.
Pass Grade: Marquinhos, Vitinha, Carlos Soler
Marquinhos was the man sending Brazil home. The PSG captain missed his penalty and kept Neymar from taking a fifth penalty kick with the Brazilian already eliminated by Croatia in the quarter-finals penalty shootout.
That said, he reached that stage with Brazil and kept his nation alive and just a couple of penalties shy of reaching the semi-finals while starting every game, so it wasn't a bad tournament for the veteran defender. And hey, he's expected back in Paris on Dec. 22.
Vitinha did the same for Portugal as Marquinhos did for Brazil in terms of results, as Portugal crashed off the tournament against the surprising Morocco of Achraf Hakimi. The midfielder played 120 minutes over three games starting one.
Carlos Soler played 92 minutes over two games for Spain, but his nation was also beaten by Morocco, this time in the Round of 16. It was a tournament to forget for the Spaniards after reaching the late stages of the Euro 2022, but at least Soler went home having scored one goal against Costa Rica in Spain's World Cup debut.
Fail Grade: Pablo Sarabia, Keylor Navas, Danilo, Nuno Mendes, Presnel Kimpembe
Pablo Sarabia was an afterthought playing only three minutes for Spain in the World Cup. Nuno Mendes played a bulkier 40 minutes but got injured and never reappeared again for Portugal. His teammate Danilo Pereira played against Ghana but also got injured and left Qatar earlier than expected.
Presnel Kimpembe ultimately withdrew from the France national squad nursing an injury, and thus didn't quite make the final cut getting replaced by manager Didier Deschamps.
Keylor Navas was the absolute worst of PSG performers at the World Cup, having an embarrassing tournament with Costa Rica. He allowed the most goals (11) in the tournament even though he only played three games.
Navas finished with an average of 3.67 goals-against per 90 minutes and only saved 54% of the shots he received. He was the only goalie allowing more than 8 goals. No need to wonder why he has yet to play a single minute for PSG.