PSG to wear Ronaldinho-era inspired kit next season, leaked pics show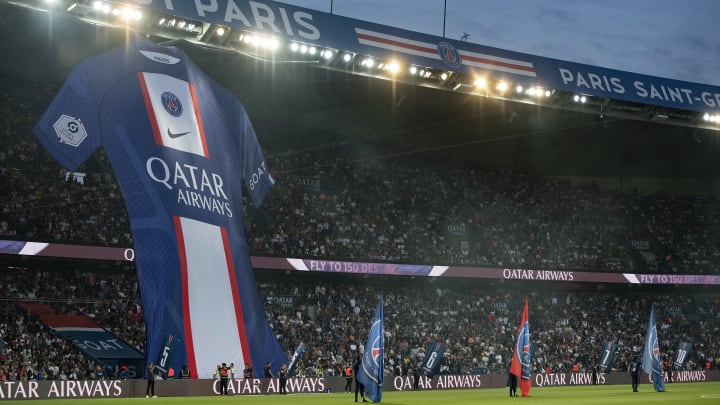 Paris Saint-Germain, PSG / Visionhaus/GettyImages
Even with the 2022-23 season still going and more than a handful of games still to be played, it's well known that kits for the upcoming season take month to design and manufacture. That's why the first leaks of PSG's new threads emerged on Thursday, confirming earlier rumors about the colors and shapes present in them.
With nine games left in the schedule of PSG, the capital club definitely have more interesting and pressing things to think about than a mere piece of garment. That said, Footy Headlines presented us with the upcoming home kit of PSG for the next campaign by publishing a tweet with the leaked design on Thursday.
The leaked photos show a jersey featuring navy blue on the background with a red stripe that ran down from the logo and fades toward the middle of the jersey.
As a probable inspiration, one can think of the 2002-03 jersey that PSG wore by Ronaldinho in his final year playing football in the French capital before moving to Barcelona.
Will the story repeat itself, only this time with Lionel Messi playing at PSG next season and donning those threads before returning to Barcelona ahead of the 2024-25 campaign? It could be the case!
Could the new "young, local, and French" PSG model force the sale of Lionel Messi?
According to a newsletter entry published by football insider Jonathan Johnson on Friday, "the likes of Messi and Sergio Ramos are becoming a little less important," also revealing that "powerful people behind the scenes (at PSG) are recognizing the financial headache [having those veterans] is giving the club."
"Ultimately, it will be with the Qatari owners to decide about how the project will move forwards," wrote Johnson, adding that "it seems likely it'll be built around Kylian Mbappe and other French players," and without Messi and Ramos by extension.
The insider thinks "we'll see a more severe change in direction this summer," and he also states that "it wouldn't surprise me if we see Messi move on as part of that."
However, Johnson warned people that the negotiations will "also depend on how desperate the Argentine is to play in Europe for a bit longer and have another stab at winning the Champions League." Of course, if there are no viable alternatives for Messi other than re-signing with PSG, then there is always a chance he lowers his demands and Paris Saint-Germain budges and ends up inking him to an extension.
"There's no guarantee that Barcelona will be a happy homecoming for him because there are so many question marks about their finances as well at this moment in time," revealed Johnson.